The Percy French Society has assembled an outstanding collection of some 90 Percy French watercolours and some 800 items of memorabilia (see Catalogue)
Much of the Collection has been entrusted to the Society by members of the French family – mainly by his daughters the late Ettie and Joan French but also by his great niece the late Frances Killingley, his great nephew Courtney Kenny and by a number of other generous benefactors.
There are additional items purchased by the Society Itself.
Through this archive of photographs, programmes, letters, engagement diaries, plays , song copies and press cuttings ` the life and times of Percy French can to a major extent be recalled in colourful detail as is shown so engagingly in Alan Tongue's book 'A Picture of Percy French' and Berrie O'Neill's 'Tones That Are Tender – Percy French 1854-1920'.
Amongst the Collection can be found the baby grand piano given by Percy French as a birthday present to his daughter Mollie who was a highly successful professional pianist in the London of the early years of the 20th century.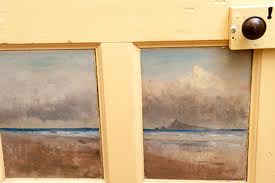 Also included is a door from a house in Baldoyle, Co. Dublin where Percy French lodged after the death in 1890 of his first wife, Ettie Armytage Moore. French painted local landscape scenes on the panels of this door.