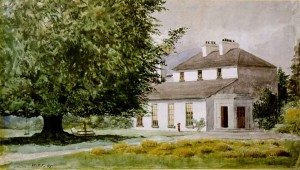 William Percy French was born on the 1st May 1854 at Cloonyquin House, Co. Roscommon. The French family had lived in this quiet rural part of Ireland since 17th Century. While life in the 'Big House' with stables, grounds, social engagements and musical soireés within the house must have helped sculpt his personality, his time spent away from home in Windermere College and later at Foyle College also helped hone his talents.
In 1872 he entered Trinity College Dublin where he completed a BA Degree and proceeded to 'study', a loose term even by his own definition, Civil Engineering. He said of himself, "I believe I still hold the record as the student who took the longest time to get the Civil Engineering Degree … I think, taking up the banjo, lawn tennis and watercolour painting instead of Chemistry, Geology and the theory of strains must have retarded my progress a good deal."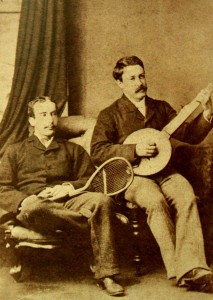 The earliest known photograph of Percy French shows him with his cousin Johnny Richardson, who went on to take holy orders. The idyllic picture of French with his banjo and Johnny Richardson with his lawn tennis racket so completely tells the story of the 'wine and roses' period in late 19th Century Ireland.
While at Trinity, French wrote one of his most famous songs, 'Abdallah Bulbul Ameer', for a university concert. Knowing little or nothing about copyright, it was sold for £5 to an unscrupulous publisher. He received almost nothing for this composition as it was plagiarised and became quite a 'hit' in its day earning considerable sums for others who claimed it as their own. Although he was awarded his B.A. degree in 1876, he is reported to have said that he was finally awarded his subsequent Engineering degree because the Trinity Board of Governors feared that if he stayed any longer he would qualify for a pension before achieving it. He duly received his Civil Engineering Degree in1880.
Shortly after leaving Trinity College, Willie French, as he was then known and a friend from Trinity, Charles Mansergh, became apprentices to Mr George Price, Chief Engineer of the Midland Board. In later years Price is quoted as saying scathingly, "I remember I had two apprentices … one danced and the other sang." Within a year, Charles had changed his name from 'Mansergh' to 'Manners' having decided to pursue a career in singing. In 1882, while a member of the D'Oyly Carte Opera Company, Charles Manners' outstanding bass voice was used to create the famous part of the sentry, Private Willis, in Gilbert & Sullivan's comic opera, 'Iolanthe'.
French remained with Price only for a short time before he too moved on. After brief periods of employment with the Irish Midland Railway and at Foyle College, where he taught Art, he took up a post with the Board of Works in Cavan. He was engaged as surveyor and engineer on a drainage scheme assessing applications from farmers for grants to improve drains. It is recorded that on being appointed to the post, French declared, "Three hundred pounds a year and travelling expenses … untold wealth to a bachelor boy with my simple tastes."  One particular action suggests the seriousness with which he approached the responsibilities of his new job. One might have expected that with his initial wages he would immediately go out and buy some engineering equipment or other necessities. No such pragmatism, instead he records that he purchased, "…a tennis racket and some spare strings for my banjo!"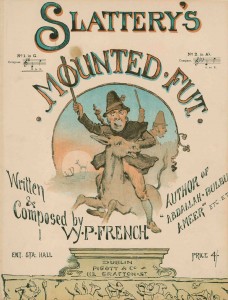 During this period as, to use his self-styled title, 'Inspector of Drains', it appears that he had little if any, love for assessing drainage grant applications. It was, however, through travelling and meeting the country people that he was inspired to write so many of his best-known songs including, 'Phil the Fluter's Ball' and 'Slattery's Mounted Fut'.  Both of these were composed in Cavan Town where he lodged with Mrs Cole for almost six years. He even penned a short, and some would suggest, autobiographical ode, the 'Song of William, Inspector of Drains'.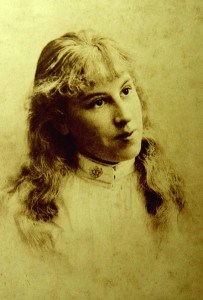 It was during this time that he began painting more seriously. Inspired by the wonderful sunsets, which followed the volcanic eruption of Krakatoa in 1883, French, though remaining self-taught, was producing material good enough to be exhibited and sold in Dublin. It was also around this time that he met Ettie Armytage Moore, also a talented watercolour artist.  In July 1888 French's post with the Board of Works ended and he returned to Dublin.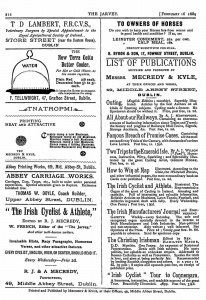 While in Cavan he became very interested in cycling, a relatively new sport becoming increasingly popular due to the invention of the pneumatic tyre. Cycling clubs were being established and it was through this shared interest he met someone who would later be quite influential. R J Mecredy, also a keen cyclist, was the editor of a cycling magazine, 'The Irish Cyclist & Athlete', to which French had contributed numerous comic prose and verse for some time. Largely based on this friendship, he went to see Mecredy hoping to secure a position on his staff. He was truly surprised to be offered the editorship of a new weekly comic paper to be called, 'The Jarvey'.
This was not, however, the prize that it may have initially seemed. Unfortunately, this position carried with it no funds with which to pay contributors, whether as writers or artists, "… at least for the first month." The anticipated profits from the first month's sales never truly materialised. It is of interest that in 2009, Michael D. Higgins, later to become President of Ireland, acknowledged that in late 19th Century Dublin, "English products were often viewed as being more fashionable and were sought after to the detriment of equally good or even more authentic things produced in Ireland."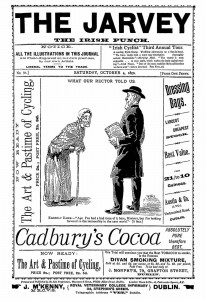 The 'Jarvey', later billed as 'The Irish Punch', may well have suffered from these very prejudices. Consequently, by the second month, there were, as one might have expected, no artists or writers needing wages. During 1889 & 1890, with the help of Ettie, whom he married in 1890 and with only the assistance of a few dedicated friends, French almost singlehandedly produced and edited 104 editions of the Jarvey. Despite the endeavours of this dedicated yet dwindling band of contributors, the Jarvey, having never truly been financially viable, met its inevitable demise.
Tragically, after only one year and one day of married life, his beloved Ettie died in childbirth in June 1891 and their baby daughter followed her a few days later. It has often been supposed that French's sadness and melancholy following these immensely tragic circumstances were the catalyst for such passionate yet poignant poems as, 'Gortnamona', and 'Not Lost But Gone Before'.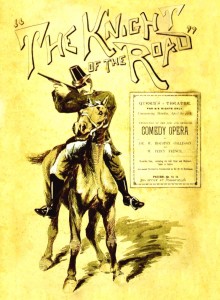 Around this time, Dr William Houston Collisson, a friend and outstanding musician, persuaded French to write the libretto for some comic operas. The first of these, 'The Knight of the Road', was very successful at Dublin's Queen's Theatre with French persuaded to play the leading role. The second, called 'Strongbow', was not quite so well received by the critics. However, encouraged by another friend and contributor to 'The Jarvey', Richard C. Orpen, French produced and appeared in a topical revue entitled, 'Dublin Up To Date'. In 1894 French married Helen Sheldon, who he had met while she was a singer in the chorus of one of his comic operas. They had two daughters while living in Dublin and French's career began to revive.
The comic songs, sketches, caricatures and amusing anecdotes, so popular in the 'Dublin Up To Date' revue, proved to be the style of stage entertainment that was to become the foundation of his future fame. Having received numerous accolades for his recitals and performances in Ireland, he was persuaded by his agent, to explore the wider horizons of London.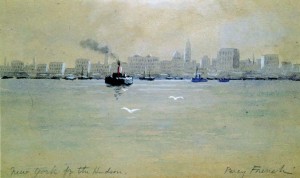 He appeared to great acclaim in numerous theatres and music halls all over Britain and was persuaded to tour Canada, U.S.A. and the West Indies in 1910 with his great friend and by now partner Dr Collisson. Their reviews and notices were outstanding! French, who was no longer known simply as 'W. French' or 'Willie' became known professionally as, 'Percy French'.
In this, 'Last Golden Age', before the advent of the First World War, Percy French had been elevated to such a position of respect that, had he lived today we would possibly have spoken of him in the same tones as movie stars, pop stars, and television celebrities. In polite Edwardian society, it was the epitome of refinement to have a 'Professional Guest' to entertain one's friends after dinner. Percy French had often been such a guest and in truly 'high' society, which at its zenith, included invitations to recite and entertain the guests of, 'The Prince of Wales.'
Percy French never lost the common touch, however, and although he toured the exclusive ski resorts of the Swiss Alps he returned to play the holiday resorts and small towns in Ireland every year. Fortunately for us, he was also able to fit in the time to produce some of his best watercolours during these visits. The tragic events of 1914 brought to an end not only the 'Last Golden Age' but also to virtually all forms of public entertainment in Britain and although he did visit Europe and perform for the war wounded in hospitals he could not earn a living easily at this time. As his income derived solely from his performances he decided to extend his usual tour of Ireland to include many more diverse locations.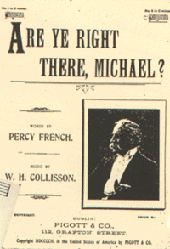 His engagement diaries, some of the many artefacts held by the Society, indicate not only his undoubted popularity but also hint at the physically demanding schedule he was undertaking. Between 1914 and 1916 Percy French performed quite substantially in many local venues including Holywood, Donaghadee and Bangor, where the memorabilia of the Society is currently located. In one month, he even performed at twenty-eight different locations all over Ireland, an arduous accomplishment that could only be achieved because of the extensive railway system that existed in Ireland at that time. Percy French's dealings with the railways in Ireland had not always been so amicable.
Percy French decided to revise his earlier success, 'Dublin Up-To-Date' and it was performed at the Little Theatre in Sackville Street but plans to take the show to England were abandoned after the 1916 Rebellion.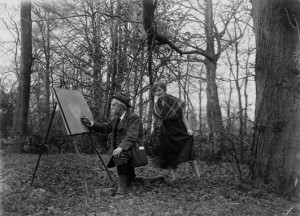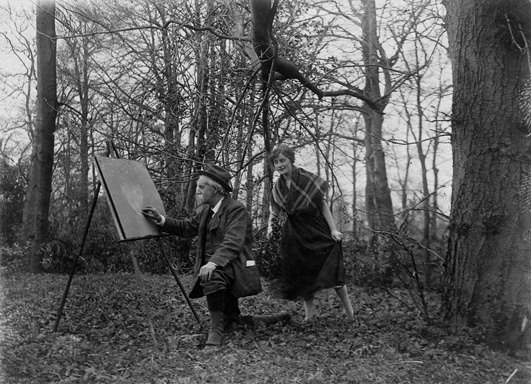 Over the next few years he suffered a number of unfortunate accidents and although he achieved some small degree of success with a new partner May Laffan, many years his junior but extremely talented nonetheless, he was never able to match the heights of his earlier career. His health continued to fail and although unwell, he refused to cancel shows. He performed with May Laffin at Glasgow's Palette Club on Friday 16th January 1920. It was indeed to be his final performance.
On the return journey from Glasgow, he began feeling very unwell and so he decided to break his journey and stay at the house called Green Lea with his cousin Canon Johnny Richardson, in Formby, Lancashire. Within days he had developed pneumonia and died from heart failure.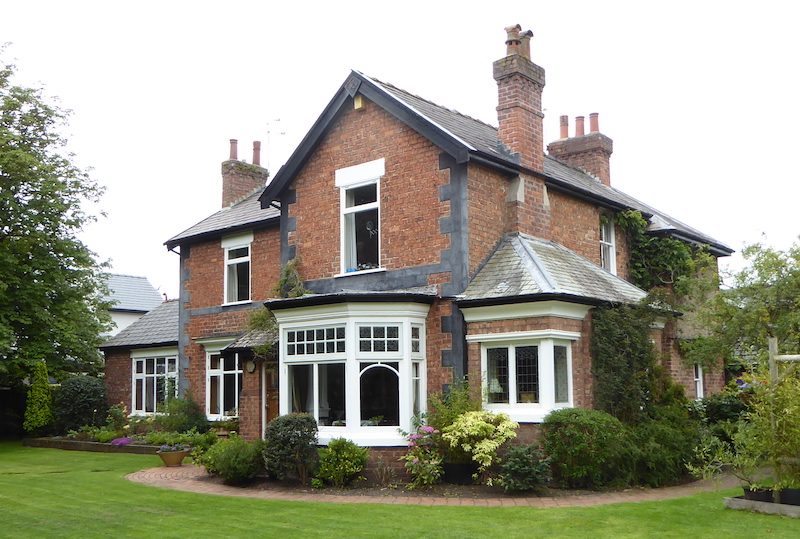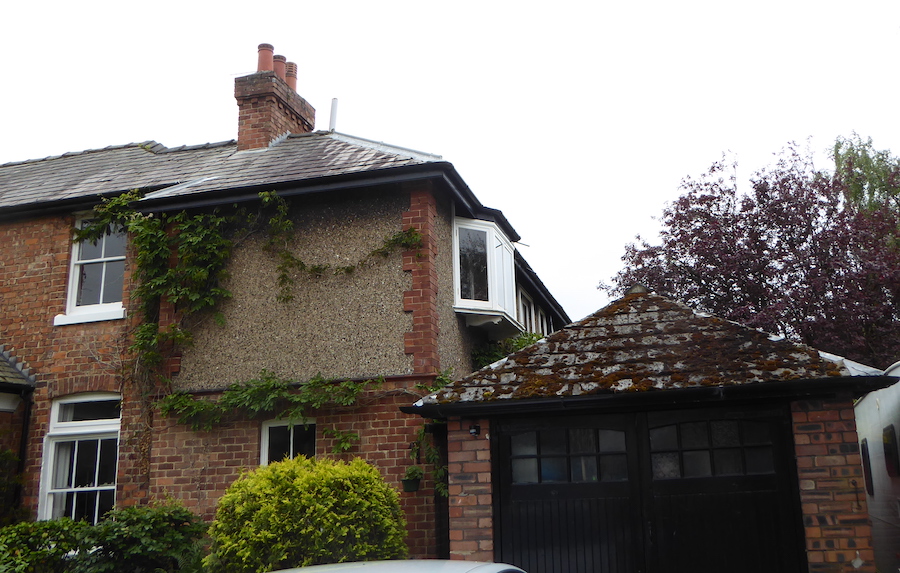 The room in which French died is the window over the garage of the side on view of the house.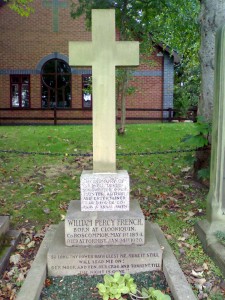 It is in the churchyard of St. Luke's Parish Church, Formby that he is buried and where his memorial stone remains.
He may not have been aware, when he wrote a short verse in the visitors' book of Glenveagh Castle on 28th August 1909, that it could well become his most fitting epitaph. "Remember me ……….